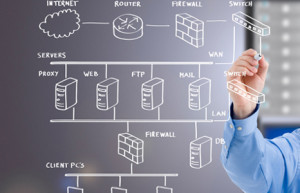 swissns GmbH extends the capabilities of your IT department, monitoring your infrastructure and applications round the clock.  Whether your infrastructure is simple or complex, we make sure that your applications perform in safe, optimized environment and as intended.  Thus, your IT burden is reduced and you get to direct more focus on your core competencies.
If required, we can integrate monitoring with other systems as well such as incident management, wiki and so on.
Get more information about our infrastructure and application monitoring services by dropping us a message or giving us a call
Managed Infrastructure
swissns GmbH has the expertise to manage your hardware, technology, security and network such that  you enjoy optimal performance. We seamlessly integrate events and metrics across the full stack.
Monitoring and instrumentation
Cloud and SaaS
Automaton tools
Database management
Source tracking
Bug tracking
Consulting
We gave a team of skilled IT professionals who can offer advice, give recommendations and deploy efficient systems for supporting business operations.
Managed Applications
swissns GmbH handles your daily managerial operations so as to increase your agility and provide your users with the best possible experience. We monitor, optimize and troubleshot your applications, generating intelligent alerts if and when required.
Metrics to Track Your Performance
We track performance using several key metrics that vary with your business nature, operations and needs.
Availability – The time during which your infrastructure and apps perform as expected; this is usually expressed in percentage
Downtime – The time for which app and services are not available
SLAs – The percentage of jobs which are executed in time and for which the set thresholds blow off
Incidents – Total number of incidents and their breakdown into various types
Resolution Time – Average time period to resolve issues
Average Response Time – The average time an app takes to respond during the day and in peak hours
Peak Infrastructure Utilization – The percentage of infrastructure utilised in peak business hours
Average Users – Average users which access the system and apps during a business day
Analytics for Deeper Insights
Analytics has become an integral part of today's monitoring systems.  It helps aggregate various metrics which help in trend identification and greater visibility. The available reports and graphs can point out important areas where performance can be improved.
Dynamic thresholds can be set so that the set benchmark changes over time. This helps is spotting the most subtle of changes in terms of load, latency, throughput and other key metrics.
Our infrastructure solutions offer real time insight into your operations, allowing effective collaboration to be achieved across the entire lifecycle. They address the goals that exist between timely and intelligent alerting on service issues and production trends.
Share your requirements, and let swissns GmbH come up with a monitoring solution. Let's get started!