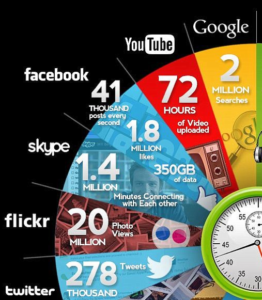 As a person living in the 21st century, you can't be oblivious to the fact that tons of data is exchanged on a daily basis, physically as well virtually through the internet. The amount of data exchanged thanks to an estimated 3.4 billion people who regularly perform Google searches, update their Facebook status, script a tweet and watch their favorite YouTube videos again and again is just remarkable. See it for yourself!
That said, with the amount of information being shared through the internet and within organizations, the number of cases related to security lapses and information theft has been on the rise. Many companies, both big and small, have fell and continue to fall prey to groups of hackers looking to steal sensitive information. These internet vigilantes have become masters in their trade, bypassing millions of dollars worth of security measures put in place by companies in anticipation of such threats.
Let's look at the 5 most famous data breaches to have occurred since the turn of the century;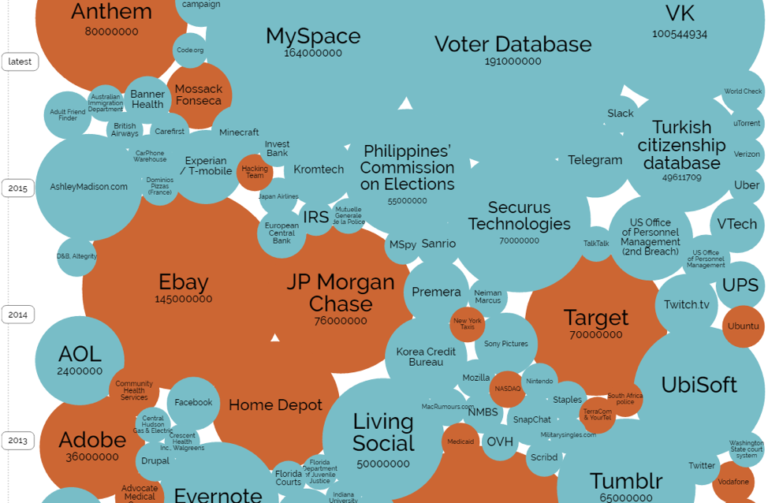 As it Happens…
Year: 2013
People Affected: 6 million users
Type of Data Affected/Stolen: Phone numbers and email addresses
Cost of Breach: Undisclosed
Aftermath:
This was more of glitch rather than being a hacking attempt. The glitch was associated with those who used the social networking site's "download your information" feature. Using the feature resulted in the individual downloading the personal information of all the people in their contacts list and those with whom they shared a lot of mutual contacts.
Year: 2014
People Affected: 145 million customers
Type of Data Affected/Stolen: Account and personal information
Cost of Breach: $200 million (est.)
Aftermath:
In late February 2014, hackers were successful in accessing the company's database, getting away with the personal information of customers. As a result, a class action lawsuit was filed against the company, forcing it to pay up an estimated $200 million dollars in damages. However, the customers breathed a sigh of relief as their financial information was not compromised in all of this.
Year: 2014
Individuals/Businesses Affected: 76 million households, 7 million SMEs
Type of Data Affected/Stolen: Financial and personal information
Cost of Breach: $1 billion in damages
Aftermath:
The hack resulted in usernames, home and email addresses and phone numbers of 76 million households and 7 million small businesses being leaked. All of this happened despite the company spending $250 million on cyber security annually.
Year: 2013 and 2014
People Affected: 30 million (2013), 110 million customers (2014)
Type of Data Affected/Stolen: Credit/debit card accounts and personal information
Cost of Breach: $250 million (est.)
Aftermath:
In December 2013, the post-thanksgiving attack on the card readers used by the company in its stores across the US resulted in approximately 30 million credit and debit cards being compromised. Not the departing thanksgiving gift most expected!
The turn of the year brings a change of fortune for many but in case of the retail giant, it bought them more bad luck. In January 2014, another cyber attack resulted in the hackers escaping with personal information of more that 110 million customers, including their names, home and email addresses as well as telephone numbers.
The result; the company had to pay $250 million in damages.
Sony Pictures Entertainment
Year: 2014
Individuals/Businesses Affected: 6,800 employees (entire company staff), 40,000 other individuals (including actors, directors and contractors)
Type of Data Affected/Stolen:
Social security numbers (SSN), copies of passports, internal system passwords, financial and legal information, marketing plans, film scripts and 4 unreleased movies (including The Interview)
Cost of Breach: $35 million (est.)
Aftermath:
This was by far the biggest and most jaw dropping hacks of all as the hackers literally had access to everything the company had on their servers! Employee, actor and contractor information along with having access to unreleased movies was the most detrimental to the company. The hackers forwarded the entire marketing plans of the company to its rival studios and it also resulted in their upcoming movie named The Interview being leaked online, causing the company to lose $30 million on it. At least we got to watch it in our pajamas at home!